TMS Features —

Sagaya
Dinnerware as Art
"Reality is merely an illusion, albeit a very persistent one."
― Albert Einstein
Image credits: Ignite.jp


Guests enter a small blacked-out room, which allows only up to eight people to be seated per session. Each seat is demarcated with a simple setting on a plain stone table. However, a closer look reveals that the dinnerware are more than what meets the eye – they are, in fact, a fine curation of crafted utensils including Nigoshide porcelain dishes from Sakaida Kakiemon XV (son of famed potter Sakaida Kakiemon XIV, a living national treasure of Japan).
The dinnerware collection spans across a wide range of dishes that feature a variety of traditional Japanese art, including Arita ware from the Meiji, Era as well as the Riso porcelain by its 4th generation heir, Shinji Terauchi.
As each guest arrives and is seated, the doors are shut. The space is devoid of light for a moment, and the meal begins.
Reality and Illusion:
On teamLab's Interactive Digital Installation –
"Worlds Unleashed and then Connecting"
It isn't far-fetched to describe the meal as a world of its own; one is instantly transported to a river bank as a projection of a water surface appears across the table, complemented by the artful sound work by Hideaki Takahashi. The first dish is served – a refreshing scallop carpaccio – and a digitally projected glowing fish swims past the plate, playfully darting around the utensils, often colliding with diners' hands and reactively swerving away upon contact.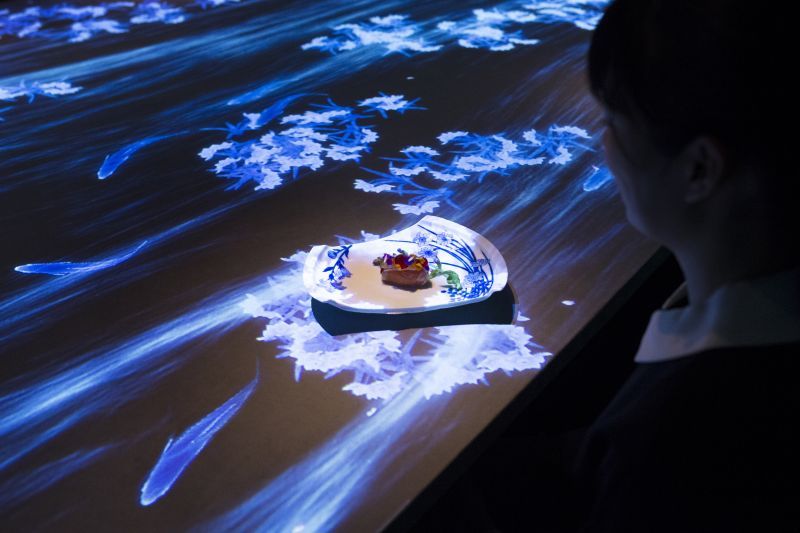 Image credits: teamLab
Perhaps this moment is most accurately, beautifully captured in Sagaya MoonFlower's official concept statement:

"The worlds unleashed from the dishes on the table influence each other, react to the actions of visitors, and combine to create one single continuous world. The world is constantly changing from moment to moment and no two moments are alike."

A unique multi-sensory experience – an unprecedented fusion of food and digital art, where the line between the tangible and intangible is blurred. In Sagaya MoonFlower's immersive world, the limit is only bound by imagination.



---
MoonFlower Sagaya Ginza
6th Floor, Puzzle Ginza, 2-5-19 Ginza, Chuo-ku, Tokyo, Japan

Same floor as the Saga Beef Restaurant "Sagaya Ginza"