TMS EXPERIENCES –


Ronald Kamiyama of Bar Cicheti



We spoke to Ronald Kamiyama of Bar Cicheti as part of our StayHome project about the basics on wine pairing and some of his personal recommendations.
Image: Robb Report
① Share with us some basic wine pairing tips that our audience can use from home.

When I do wine pairings, I have 3 people in mind:

The Guest- Food and wine can be very subjective. Because of the expansive number of wines in the world, each Sommelier may have their own personal opinion. I think is important that whatever decisions you make, the food and the wine need to be enjoyable.

The Chef- Chefs take weeks planning a menu out. They practice different technique and choose specific ingredients in order to convey what flavours they want to put on a dish. Whatever the wine is, it cannot overpower the meal. If so, the food will lose its intended flavours.

The Winemaker- Similarly as the Chef, winemakers take a great amount of time and energy to create what's inside the bottle. If a certain dish is too sweet or too sour, it may throw the structure of the wine off balance and thus people may feel that the wine is flawed.

Moreover, think about the body structure of the dish. If rich, heavy, and/or hardy, then we move towards a fuller, more complex wine. If the dish has some light, delicate flavours, then we do a lighter wine with similar characteristics.


Image: Frank Cornelissen, Susucaru
② What are some of your personal favourite wines for easy drinking? Why?

Low alcohol, fresh, easy, aromatic and citrus whites. Nice refreshing feeling plus I love saline flavours. Pet Nats. Great value sparkling wines with great interesting fruit character. Rosé wines. I don't know why people don't take them seriously? Some of my favourite wines come from the region of Tavel (An appelation that only allows rosé to be made.) Deep, refreshing rosés with good structure.


③ Share with us some of your favourite food and wine pairings (with reference to your wine menu).

Our Cassarece Nero with Tiger prawns, nduja, passata, and anchovy crumbs together with our Franck Cornelissen, Sussucaru (image), Etna Roso from Sicily is a match made in heaven. The smoke, the spices, the acidity of the sauce with the wine, all works harmoniously.

Braissed Beef Cheek Agnolotti served with a rich butter sauce, topped with parmesan cheese together with Pierre Ives Colin Morey, Burgundy white aged in French Barrique. The key element that emphasizes this pairing is the buttery flavours you get from the barrel aging, the lees contact, and the Malolactic fermentation present in the wine. (I purposely chose a seafood dish with red wine and a meat dish with white wine because I don't want the audience to stick to the idea of "fish goes with white and meat goes with red." It is important to note what kind of fish and what type of garnish is given that may influence the overall flavour.)

Tiramisu and a light, alpiny Amaro. An Italian digestive that's made with several local herbs and spices. Both with similar sweet and bitter flavours.


④ What are some of your top recommendations for lunch, dinner, dessert from Bar Cicheti's delivery menu?

The Polpette di Manzo and the Pici Cacio e Pepe are 2 of my all time favourite dishes. I love the fact that they sound so simple and easy to make. However, it requires great attention to detail and choice of good ingredients in order to execute them well. Because of its simplicity, the focus is all on the freshness of the ingredients.


⑤ Will delivery service be offered during the extension of the circuit breaker?

Absolutely, we will continue to survive thanks to all of our loyal supporters. This will continue during and after the circuit breaker. We are currently creating new dishes and seeing how we can deliver a better experience for our guests, in the comfort of their home.


Image: Zachary Tang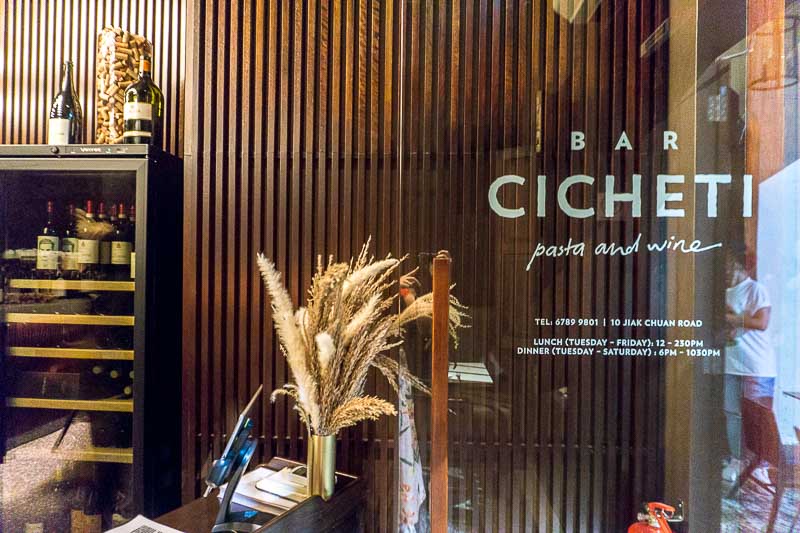 Image: Sethlui
⑥ What are you looking forward to when this whole COVID situation is over?


I look forward to greeting my guests back and offer them what I love about this industry. And that is, hospitality, through food and wine.
---
About Bar Cicheti

Bar Cicheti is a wine and pasta haven. Some of the best pasta dishes you'll ever have in Singapore is not even really Italian; Bar Cicheti on Jiak Chuan Road is that place to bring a pasta- and wine-loving date.