Weaving through fashion waste
#InConversationsWith Founder of Threadapeutic, Hana.
Image: Threadapeutic
With sustainable design growing as a new paradigm in the design industry, companies are experimenting with innovative materials and processes. A new generation of companies placing sustainability at the core of their vision is also arising. It's the case of Threadapeutic, a Jakarta-based brand that has been in the industry for the past 6 years.

To find out more about sustainability practices within the brand and the industry at large, we talked to Hana, founder of Threadapeutic about how their company is making a difference and why it's so important.


① Let's start with something about you and your company. How did the idea of Threadapeutic come to life?

I was 50 when someone tasked me to make upcycled media souvenirs for the Indonesia Fashion Week event in 2015. With a small team of novice and amateur seamsters, we started using event banners, leftover fabrics and deadstock, to make pouches and bags. "Make a brand label," the organisers said. Sewing was always therapeutic for me growing up, so my first thought was to combine the words 'thread' and 'therapy' to print on our first labels.

I hadn't planned on starting a business, but this experience opened my eyes to see first-hand how abundant waste materials are from the local fashion industry. Back then, the idea of utilising fashion waste was already a hot topic, but dedicated platforms were few. And since our children have already grown up, it seemed like a good time to try running a sustainable business by turning textile waste into raw materials. I believe that by putting out good work, we can advocate, by showing, the value and beauty of 'waste'.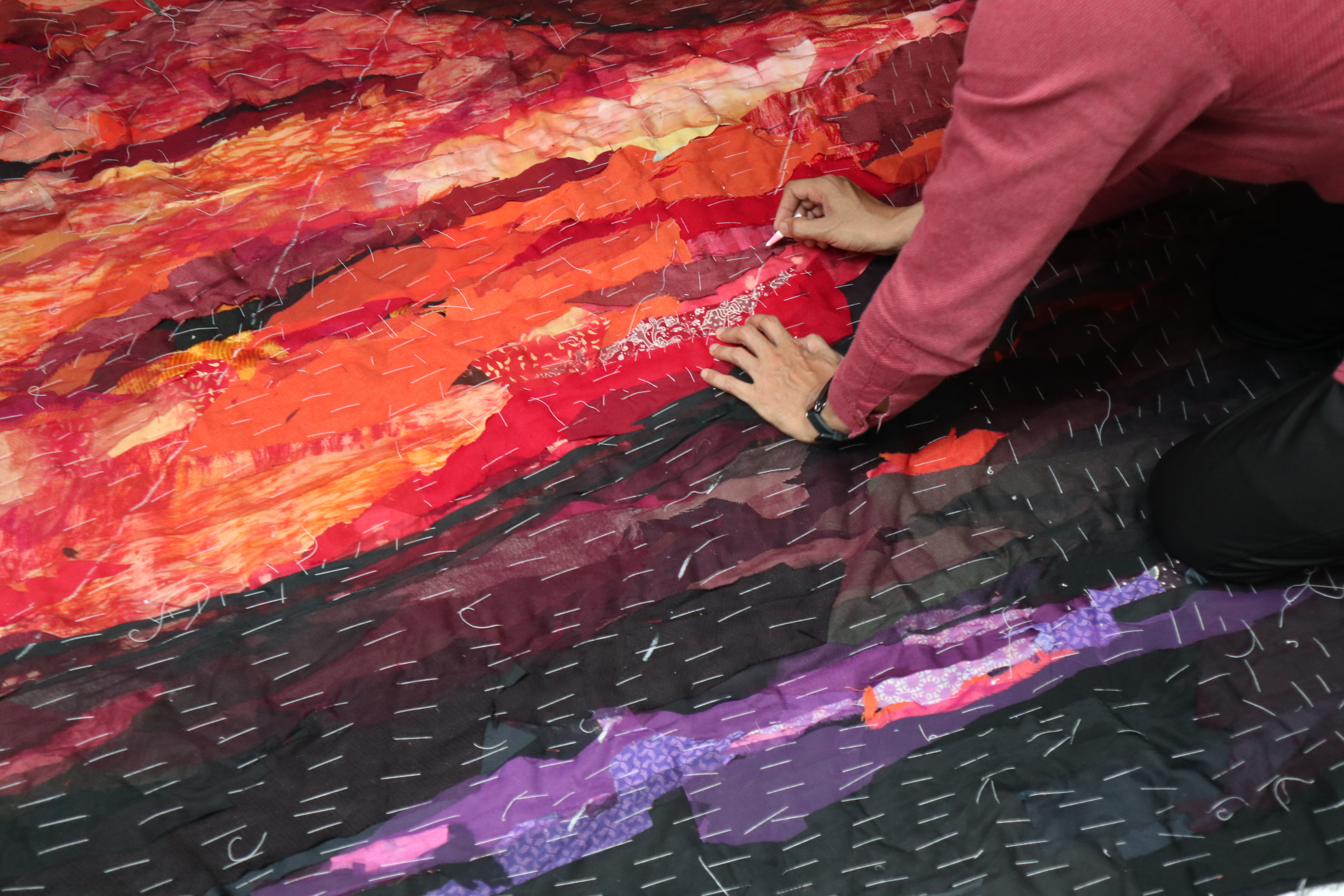 Image: Threadapeutic (Left) & Poliform Jakarta (Right)
② Your work crosses over various industries and are handcrafted from your signature faux chenille textile pieces with fabrics sourced from deadstocks and offcuts from the garment industry. Tell us more about the process and artisans behind your work?

None of us have received formal training in design, but we've been learning by making. We took a basic fabric manipulation technique widely known as 'slash quilting' or 'faux chenille', a technique typically used for making blankets, and just kept playing with varieties of fabric offcuts and pushing their limits to create new one-off textiles. Over the years, we've discovered our unique brand of textures that can be used by designers, architects and individuals. We've recently been creating our own art too, in the form of wall tapestries that you can enjoy at home! Although it takes much longer, about 2-3 months to make one tapestry, we've really been enjoying the journey of making each one.

Our process involves both low and high skill that makes it possible to empower our local community as well as trained seamsters through upcycling. My goal is to foster a work environment where the personal development of the 'artisan' in creativity and workmanship is most valued - building each others' confidence in our skills and ability to sustain our livelihoods, in turn creating good quality products we are all proud of.


③ How did you decide to make circular design the focus of your company?

We have been working with fashion waste from the start, and the materials we receive have always been the heart of our creative process. The more time we spend with 'waste', the more value we see in them too… So much so that we started using our train ticket stubs as price tags, and using the offcuts of our offcuts (chenille offcuts) to make other things haha. There's something about working with 'unwanted' things that changes us. Naturally, circular design became the focus of our team.

A circular economy can't be achieved alone. Aiming for it has pushed us to work with local garment factories and fashion ateliers, so we could close the production loop in a larger scale. Only together can we reduce the need for new materials. Although we have yet to reach a fully circular economy, we continue to innovate and inch closer to it. Apart from designing products to last, we are slowly shifting away from making readymade products, and towards co-creating each piece with our customers. This way, not only is each creation something he or she really wants, it's zero-leftover-inventory and zero-waste too.


④ We are living in a time where there is an urgent need for sustainable development in all fields. In your opinion, what would speed up the change in the design industry?

I don't know objectively what would speed up the move towards designing for sustainability, but I believe that one worthy thing for someone who creates anything with waste to do is to continue creating with waste well, to the best of your ability.


The more beauty, better quality or more use we create with the 'leftover' or 'unwanted', the more we (consumers and creators) would see the value in the 'leftover' or 'unwanted' around us.

It's a way of seeing trash as treasure, of appreciating what we have, that might speed up the change in the design industry, but is definitely a habit that's worth spreading.


⑤ What are your next steps of your sustainability journey? Can you give us a preview of what you have in the pipeline?

Until waste from the fashion industry diminishes, it will continue to be our main resource. Our goal now is not to over-produce by co-creating one-off pieces with our customers (as mentioned before). This applies to our retail products and architectural panel projects. We hope to collaborate with more designers across industries to reduce waste too, whether it's in designing new techniques or applications… There is simply too much 'waste' for us to play with alone :)


---
About Threadapeutic

Established in 2015 in a humble workshop located in West Jakarta, Threadapeutic is a band of local artisans with a passion for fabric reconstruction and a shared goal of minimizing waste.